I usually like to focus on ethnic art and ethnic artists on my site for the most part.  It's just a personal choice and the niche market that I'm in.  However, from time to time, I find articles that are very interesting that I like to share with those that visit our site and blog.  This one in particular shows how art comes in many different forms and flavors.  It also shows how a hobby, if truly mastered, when combined with creativity can become a revenue generating activity.  I hope you find the article informative and inspirational.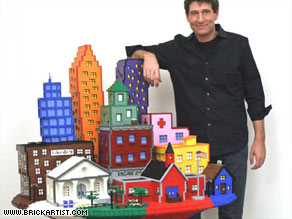 Since CNN spoke with LEGO artist Nathan Sawaya a year ago, his popularity has skyrocketed. Just check out his clientele.
Donald Trump recently asked Sawaya to create a replica of the new hotel he's building in Dubai. With 10 days to complete it, and only architectural renderings to work from, Sawaya toiled away in his Manhattan studio snapping tiny bricks together, barely sleeping, to finish the curvy 10-foot statue in time for its unveiling.
His work has also created a, well … buzz with entertainers.
Sawaya built a 4-foot bumblebee for Fall Out Boy's Pete Wentz to offer his new bride, Ashlee Simpson, as a wedding gift. Stephen Colbert wanted a piece of the action too. The comedian invited Sawaya on his show last August to present a life-size LEGO Colbert replica.  Read Full Article